PDLJMPR's Sprite Hall of Fame
PDLJMPR Web Magazine, December 22, 1997
Jim Albeck's Trio of Healeys - Who says you can't have your cake and eat it too! - You be the judge!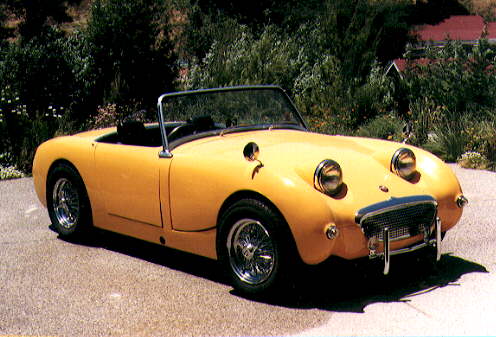 AN5-2247 (RHD) was acquired in late 1959 as an H Production club race car and was competitively driven in Cal Club events through the early 60's. With the family growing, and the appearance of sponsored cars, the availability of discretional income to be competitive was limited and the decision was made to "park it'. It remained in the corner of the garage until 1970 when son #1 decided he wanted to clean it up as he would be getting his license in the following year.

As a racer it had no bumpers, windshield or dash so we scrounged some parts and made it road worthy. After 2 years it was passed on to son #2 as son #1 wanted something 'with more beans'. Son #2 also wanted to move up in horsepower after a couple of years and my daughter didn't want to have anything to do with it. I really couldn't blame her as the poor little bugeye had been beat to death after four years of teenage thrashing. Off into the corner of the garage for another five years where it remained until one day while cleaning out some stuff I decided to completely restore this poor waif.

A wrecked MkII Midget was acquired for the 1275 engine, ribcage trans and the 3:90 rear end and other needed bits and pieces that had been discarded or busted over the years of neglect. The body was completely stripped and repainted, a new dash installed with electric tach and VDO gauges, seats from a Spitfire (free), new carpets and upholstery pieces and all suspension pieces were rebuilt. The restoration was a two year spare time task and our first trip was to the West Coast Healey Meet in Monterey, Calif in 1985 where it received a 3rd place in the Sprite class.

Having owned the beast for 38 years and enjoying the ride, I guess I'll keep it around for a while.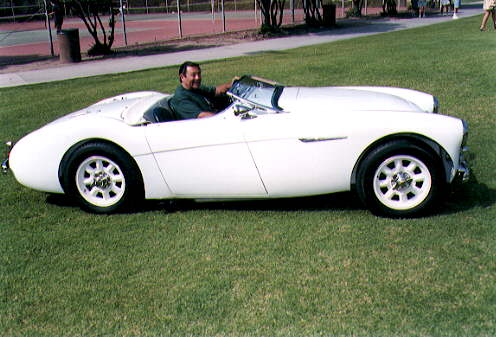 This 100 was found in a garage in a housing tract in '94 when I was trying to find my way out to the hiway...one way in...one way out. The garage was open and I saw the back end in passing by. Backing up I recognized a Healey sans trim with boxes piled on top of the car. As I say, nothing ventured, nothing gained, I knocked at the door and asked about the Healey. He said he was restoring it, had the body work done and had it painted and then discovered the engine had a cracked block and head and the trans was frozen. The car had been sitting there for 8 years and the engine and tranny were gone. He left them with a mechanic who left town and could never be found. Asked him if he wanted to sell it and his wife said "yes". I made him an offer and his wife was out taking off the boxes 30 seconds later.

I now have an engineless car with boxes of stuff to sort. First task was to add something to make it move without pushing it. The decision to use a Ford 289 and four speed top loader was made for me by my wallet. For 350 bucks the engine and tranny was mine and the installation was not that difficult once the engine mounts were located and welded in-place. I spent about 10 days measuring and marking the frame rails so when I dropped it in I knew it would fit. Slight cuts were required on the foot boxes and a rear tranny mount had to be made up along with a driveline with a Ford U-joint. Recognizing that this setup would have gobs of torque 'tramp rods' were installed to keep the rear end from doing barrel rolls. The exhaust system was sheer misery and with the tramp rods in the way at the back end I took the easy way out and brought the exhaust out in front of the rear wheels.

Once it was running I quickly found out that with 4:11's in the rear end and the torque of the 289 will quickly destroy the 72 spoke wires that came with the car. I changed the rear end to 3:54's and cleaned my wallet out purchasing a set of minilite repros and new tires. I didn't repaint the car, just rubbed it out, rebuilt the suspension, brakes and other mechanicals, put in some upholstery, polished up all the trim , put it all back together and 'Volia', one fun machine.




This Healey 3000 was restored from ground up in the 1986-87 time period. It was intentionally modified during restoration to be a reliable long distance tourer. In the 10 years that it has been on the road we have traveled some 60,000 miles with nothing more than routine maintenance. This includes 2 trips across the U.S. and Canada. The engine is the stock 3 liter with a mild cam, some porting and a full balancing. The features that have been added, changed or modified are:
Transmission; 5 speed Toyota Supra
Rear End: 3:54
Tires: 205-65-15
Wheels: 5.5 in 72 Spoke Daytons
Radiator: 6 Core Staggered
Alternator: Delco-Remy with internal regulator
Distributor: Mallory with Pertronics Electronic System
Fuel Pump: Solid State (Napa)
Air Conditioning: Lone Star A/C
Cruise Control: J.C. Whitney
Upholstery: Custom with Corduroy seat inserts and lumbar support
Grille: Custom egg crate design for maximum air flow
Bonnet: Custom Louvers
Oil Cooler: Race Car Specialties 8 in x 12 in.
Spin-on Filter: Lyn-Mar Engineering
Fan: Hayden 5 Blade Flex-fan
Electric Fan: Hayden 14 in Turbo-fan
With the addition of air conditioning the area around the radiator is completely shrouded and a scoop has been added under the shroud to direct air flow through the condenser and radiator. The cockpit is fully insulated and the dreaded "Healey Heat" has been eliminated. On a 110 degree F day the cockpit temperature is maintained at 69-72 degrees with engine temperature at 195-200 degrees. Geoff Healey drove the car for over an hour at the 1989 West Coast Meet in Oregon and was elated with the 5 speed conversion and comfortable seating. Even though modified, the car has received significant recognition at various Healey gatherings over the years. To name a few:
Calif. Healey Week, Pismo Beach, Calif. 1989 Best of Show
West Coast Meet, Lake Tahoe, Calif. 1991 Best of Show
AHCA Conclave, Sturbridge, Mass. 1991 Best of Show
International Meet, Breckenridge, Colorado 1992 2nd in Class
Calif. Healey Week, Del Mar, Calif. 1994 1st in Class
West Coast Meet, British Columbia, Canada 1996 2nd in Class
International Meet, Park City, Utah 1997 4th in Class

This Healey is a pleasure to drive and has never been trailered.

Jim Albeck
If you liked Jim's collection of Healeys, why not e-mail him a note saying so!