Les Myer's '67 MKIV Sprite
PDLJMPR Web Magazine
Return to Table of Contents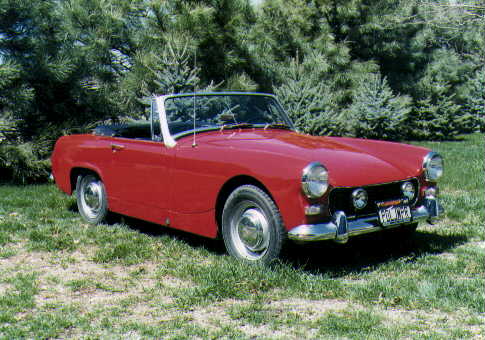 Puddles was quite sharp with 48,000 miles and apparently never any rust. On the road home from buying the car (Interstate), mechanical problems became apparrent. Puddles blew out tons of oil from the front of the engine. When I got her home I found that there was no PCV valve, the oil separator on the timing cover was hooked up to nothing, and that two cylinders had less than 60 psi compression. I am still amazed at how much power the car seemed to have with compression like this. I started working on the car around Thanksgiving, 1995.
Puddles now has a new top, new carpet, and new seats. Photo
The 1275cc motor has been completely overhauled. Photo New goodies include:
Pistons & Rings, 0.020 over
Resized rods
Main, rod, & cam bearings, std (crank was fine - 0.002 oil clearance)
Timing chain, oil pump, timing cover (old one cracked)
Mild reground cam, lifters
All valves, two exhaust seats, surface head, springs, retainers, etc
Carb kits / oversize throttle shafts
I look forward to driving Puddles a lot this year. Look for me at the Healey events.
Les Myer
Return to Table of Contents