Mike & Vivian Harlan's '60 Bugeye
PDLJMPR Web Magazine, April 1, 1996
Return to Table of Contents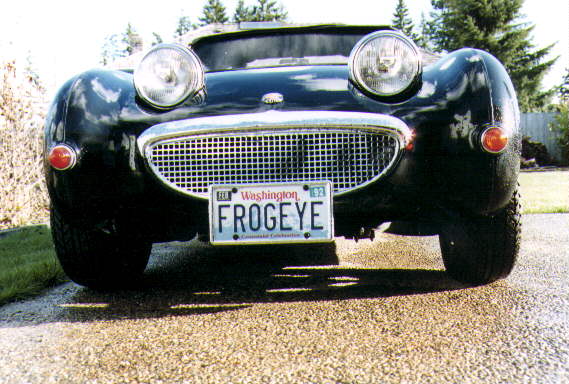 1960 Bugeye (Frogeye) sprite. Originally purchased in Spokane, WA by the original owner, who owned her for about 1 + years. The original owner was killed in some sort of accident (don't know the details), the car was then sold by his estate to my friend Ned Kohlhauff.
Ned drove the car on the street through college and for several years as his sole transportation, autocrossing on the weekends. In 1967 he prepared the car and raced in SCCA H-Production and H-Improved- Production, and was pretty competitive here in the northwest. In 1976 Ned bought an Alfa Romeo Spider race car, which he did (and still does) race SCCA E-production. He put Louise back on the road (mostly street legal) as his fun transportation car, running an SCCA prepared 1098 motor from a Mk III Sprite. He drove Louise on the street until 1978 when he had an unfortunate encounter with a St. Bernard at about 60 MPH up on Blewett Pass, up in the cascade mountains. Louise was limped back home, where she waited for "Someday"
In August 1986 I bought the car from Ned (it took a long time to convince him to sell her), and started the long process of restoring her. I decided early on that I would leave all improvements in place, rather than returning everything back to stock. I had to change the engine around quite a bit, as the old motor was not streetable with 14:1 compression on today's gasoline. The motor I built is a somewhat warmed-up 1098 (cam, 9:1 compression, ported head) Tube intake manifold and Webber 40 DCOE, LCB header, recurved distributor). Last year I converted the radiator to a Cross-Flow unit from a 1275 Sprite.
The gearbox is a Straight-Cut/Close Ratio unit (a BMC Special Tuning kit) that Ned built. Rear End is stock except for a pair of Huffaker "No Break" axles. Front and rear suspension have stiffer, lower springs, re-valved lever-arm shocks, and a Watts-Link on the rear-end. Brakes have been converted to front disks.
My future bride and I "finished" the original restoration by Labor Day 1989, and our debut outing was to the All British Field Meet in Portland, Oregon. Since that time we have driven her off and on during the summers, sometimes commuting to work (56 mile round trip) on weekends and gone to various shows. Louise is currently laid up for the winter and is in need of several minor repairs before next summer. Her paint job is starting to get a little long in the tooth (mostly from an unfortunate incident with Oxygenated gas under the rubber filler neck gasket), so I hope to repaint her within the next few years.
About us: My wife Vivian and I both work for Boeing and live in Redmond, Washington. We both love old cars and have done 2 car projects together - the Sprite and a 1968 Cougar, which has since found a new home. We are building a new house this year with LOTS of garage space for our 5 cars!
Mike Harlan
Click here to view Mike & Vivian's "Happy Healey Days" Christmas card from last year. Reportedly, they hand-wrote 'Twas the Night Before Christmas" on them. - ed.
Return to Table of Contents