Skip Tannen's 1965 MKIII
PDLJMPR Web Magazine, June 21, 1996
Return to Table of Contents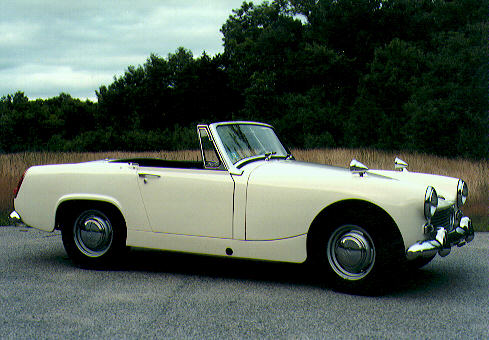 This '65 MK III Sprite is my seventh British car - in past years I've had Sprites, Midgets, and Morris Minors of various flavors - they have ranged from daily drivers to all out autocross machines that no state would ever put a pair of license plates on! I am the fourth owner of this car, and it has had a relatively uneventful history; but this is a good thing since it has been well-maintained over the years, has only seen one New England winter and has only been driven about 60,000 miles. Rear-view Photo
The original owners were two brothers in Brighton, MA that worked for an Austin Healey dealership in Boston. They sold it to another Brighton resident in 1971, who then sold it to a guy in New Hampshire in 1975. This man kept meticulous records of everything he did; when I bought the car from him, he gave me a logbook of every bit of work done to the car, every receipt for everything he bought, gas mileage records, and both prior bills of sale! Around 1981, he had the original 1098cc engine replaced with a 1275cc and in 1985 it was repainted a beautiful Olde English White (I think the car was originally red).
The previous owner kept great records, but unfortunately some of the mechanical work was not the best. I have done a lot of little things to correct "aftermarket" repairs and add-ons. Not counting the 1275, a Mota-Lita sport steering wheel and a Monza style muffler (but it sounds SO good!), the car has been mostly restored to original specifications. This year it will get a new interior and next winter I hope to do a full engine rebuild.
This is a good example of a typical Sprite - the car is extremely fun to drive, sticks in the corners and has extremely tight handling. Periodically, I think about trading up to a big Healey. Then I take the Sprite out for another drive........
Skip Tannen
Natick, Massachusetts
tannen@babson.edu